960 Girvin Rd., Jacksonville, FL 32225
904-619-2860
Mass Times
Saturday, 5:30 PM and Sunday, 9:30 AM
Confession



First Saturday of the month at 4:45 PM
---
Sacrament of Reconciliation
On the first Saturday of each month, you have the opportunity to receive the sacrament of reconciliation.  A priest will be available in the office to hear confessions from 4:45 PM to 5:15 PM. Please take advantage of this opportunity to draw nearer to our Savior.
---

Adoration
Monday,  10:00 – 11:00 AM
Thursday,  1:00 – 2:00 PM 
---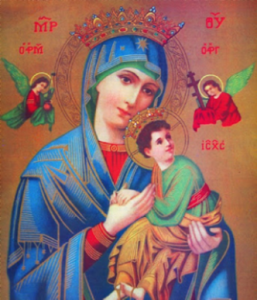 Holy Hour of Prayer
With the Intercession of 
Our Lady of Perpetual Help
3rd Wednesday of every month 7:00 PM
A holy hour of prayer complete with Adoration and Benediction, asking for the intercession of Our Lady of Perpetual Help.  These evenings of prayer will be followed by a reception.  Everyone is invited to attend and not only share in prayer but to enjoy the specialties prepared by members of the community. Make sure to come hungry.  We promise a Feast for both your spirit and body.
The holy hour has been put on hold and will resume:
                                                   September  19th
---
Free Blood Pressure Checks
Please stop by the kitchen after Mass the 2nd weekend of each month, nurses are available to take your blood pressure.
---
PETER'S PENTECOST MINISTRY FAIR

Have you been considering being a part of one of the many ministries at St. Peter's Mission?  We have a great need for assistance in all Liturgical Ministries and Organizations.  On the weekend of May 19-20, you will have the opportunity to speak to members of our different groups, and sign up.  We are looking for Lectors, Eucharistic Ministers, Altar Servers (Grade 5 and up) Singers and Musicians, Decorators, Gardeners, Hospitality Committee members, Ushers, Greeters and so much more.
Please pray about where God is calling you to serve, and consider taking this opportunity to sign up.
For additional information, please contact Maggie Bilas at 619-2860 or mbilas@stpaulsjaxbeach.org.
There is a place for everyone,  and all are invited and welcomed to participate.
---
Know Your Numbers: Blood Pressure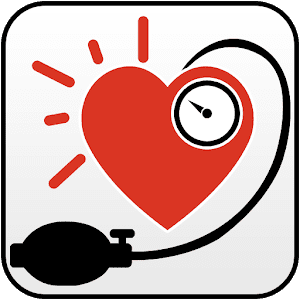 Blood Pressure is the force of blood against the walls of your arteries –for example 120/80. Hypertension (high blood pressure) can lead medical conditions such as  heart attack, stroke, and kidney damage.  High Blood Pressure is dangerous because it usually has no signs or symptoms.  The American Heart Association estimates that nearly half of all American adults have high blood pressure and many don't even know they have it.  The best way to find out is to have your blood pressure tested.
St. Peter's volunteer nurses offer blood pressure checks on the 2nd weekend of each month,  after both Saturday and Sunday Mass. Please stop by and see us.
On Sunday, June 3rd, St. Peter's will offer a Blood Pressure Brunch from 11:00 AM – 1:00 PM.  There will be a more in depth discussion about high blood pressure and what you can do to manage it.  Please let Maggie Bilas know if you are interested in attending.
---

St. Peter's 10th Anniversary Mass and Reception
June 10th , at the Sunday 9:30 Mass,  St. Peter's will be celebrating its ten year anniversary.  It will be followed by an old fashioned picnic.  Hamburgers and Hotdogs will be served.  Parishioners are invited to share a side dish or dessert.    If you are planning on attending, or can bring a dish, please sign up in the vestibule at the Mission or RSVP Maggie Bilas at (904) 619-2860, or mbilas@stpaulsjaxbeach.org.  Everyone is invited to attend this beautiful, faith family celebration.
---
Symbolon: The Catholic Faith Explained
This series consist of two ten week classes and will resume April 9th, 2018. Class time is from 6:30 – 8:00 PM.  Our class will be led by Deacon Edward Prisby.  There is an accompanying book to the series which costs $25.00.  We can order it for you, or you can purchase it directly through Amazon.
Acclaimed author, speaker, and theologian Dr. Edward Sri leads over 25 of the nation's top experts to clearly and comprehensively explain the Catholic Faith in a way that helps us know it, live it, and articulate it to others. Symbolon presenters include Johnnette Benkovic, Patrick Coffin, Jason and Crystalina Evert, Dr. Tim Gray, Curtis Martin, Leah Darrow, Chris Stefanick, Teresa Tomeo, Fr. Leo Patalinghug, and many more!
This compelling series contains two parts including ten episodes each. In Part 1, we journey through the core teachings of the Catholic Church traced out in the Creed and Catechism with the goal of knowing the Faith. In Part 2, we focus on our encounter with God in the sacraments and the moral life so that we can be fully living the Faith.
Episode Listing: PART 1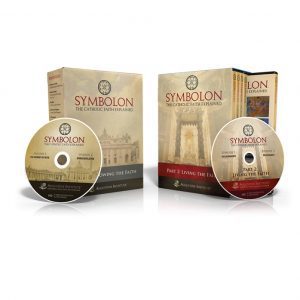 1. The Journey of Faith (20 minutes)
2. Divine Revelation (32 minutes)
3. The Bible (33 minutes)
4. The Story of Salvation (34 minutes)
5. Who Is Jesus? (33 minutes)
6. The Paschal Mystery (33 minutes)
7. The Holy Spirit & the Life of Grace (37 minutes)
8. Why Do I Need the Church? (44 minutes)
9. Mary and the Saints (36 minutes)
10. The Last Tings (40 minutes)
For additional information on this class, please contact Maggie Bilas at St. Peter's Mission. (904 -619-2860) or via email at mbilas@stapaulsjaxbeach.org.