960 Girvin Rd., Jacksonville, FL 32225
904-619-2860
Mass Times
Saturday, 5:30 PM and Sunday, 9:30 AM
Confession



First Saturday of the month at 4:45 PM
---
Sacrament of Reconciliation
On the first Saturday of each month, you have the opportunity to receive the sacrament of reconciliation.  A priest will be available in the office to hear confessions from 4:45 PM to 5:15 PM. Please take advantage of this opportunity to draw nearer to our Savior.
---

Adoration
Adoration of the Blessed Eucharist is on Mondays from 10:00-11:00am and on Thursday from 1:00-2:00pm.  Join us for this intimate time of prayer and Adoration.
---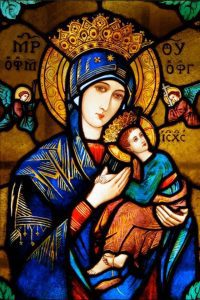 Holy Hour of Prayer
Our Lady of Perpetual Help Novena
Our next Hour of Prayer is December 1st.
Offered on the first Sunday of the month, after the 9:30 Mass with a reception to follow.  Please mark your calendars and decide which of your favorite dishes you would like to bring and share.  If you have any questions, please contact the Mission office.
---
HOUR OF HONOR
St. Peter's Mission is offering our 2nd annual Hour of Honor on Sunday, November 10 from 4-5 PM.  This year we are inviting you to submit your photographs in uniform, with or without your family members, as well as any stories you would like us to consider using.  Please drop them off at the Mission, email them to

mbilas@stpaulsjaxbeach.org

 or they may be dropped off a the St. Paul's rectory.  Stories and pictures will be accepted until 11/4.  A reception is to follow.  Everyone is welcome and invited to bring guests.  
---
St. Peter's Mission will begin offering Children's Liturgy of the Word starting Sunday, October 13th during the 9:30 Mass. Children from kindergarten through fourth grade are invited to join two teachers to study and discuss the Mass readings, and pray together.  They will leave after the introductory prayer, meet in the kitchen and  return to their parents during the offertory procession.