DIVINE MERCY SUNDAY
In the 1930s, Jesus chose a humble Polish nun, St. Maria Faustina Kowalska, to receive private revelations concerning His Divine Mercy that were recorded in her Diary. St. Faustina's Diary records 14 occasions when Jesus requested that a Feast of Mercy be observed. On May 5, 2000, five days after the canonization of St. Faustina, the Vatican decreed that the Second Sunday of Easter would henceforth be known as the Sunday of Divine Mercy.
The Image: Jesus appeared to St. Faustina in a vision, with his right hand raised in a blessing and his left touching his garment above his heart. Red and white rays emanate from his heart, symbolizing the blood and water that was poured out for our salvation and our sanctification. The Lord requested that "Jesus, I trust in You" be inscribed under his image. Jesus asked that his image be painted and venerated throughout the world: "I promise that the soul that will venerate this image will not perish" (Diary, no. 48) and "By means of this image I will grant many graces to souls" (Diary, no. 742).
---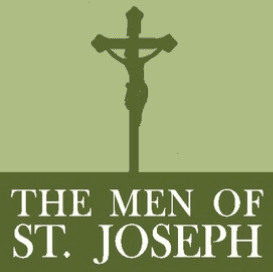 St. Paul's is now part of a world-wide organization called The Men of St. Joseph – an association of Christian men, united under the Catholic Church, who meet weekly to pray together and encourage each other to be the spiritual leaders of their families. All men of the parish are called to join this organization.  Each week an email with the prayers and readings for the week is sent for review and reflection. Men are asked to be open to the Gospel message and practically apply it to their everyday lives.  Meetings are being held "in-person" in the Kelly Room of the Fr. Kelly Athletic Center (the gym), every Thursday at 5:30 PM.  For those men who are still not comfortable meeting in person, a zoom link will be provided for virtual participation. Contact Deacon Chip Magner at 205-799-2172 or lrmagner@gmail.com for more information and check out their website at www.menofstjoseph.com .
---

Pope Francis declared December 8th, 2020 through December 8th, 2021 a Year of St. Joseph.  In making his declaration, Pope Francis noted that this year marks the 150th anniversary of the saint's proclamation as patron of the Universal Church by Pope Pius IX on Dec. 8, 1870.  The Pope said he was establishing the year so that "every member of the faithful, following his example, may strengthen their life of faith daily in the complete fulfillment of God's will."
Pope Francis said the coronavirus pandemic has heightened his desire to reflect on St. Joseph, as so many people during the pandemic have made hidden sacrifices to protect others, just as St. Joseph quietly protected and cared for Mary and Jesus.  "Each of us can discover in Joseph — the man who goes unnoticed, a daily, discreet and hidden presence — an intercessor, a support and a guide in times of trouble," the pope wrote.  He also said he wanted to highlight St. Joseph's role as a father who served his family with charity and humility, adding, "Our world today needs fathers."
The Catholic Church honors St. Joseph as the foster father of Jesus. He is also the patron of workers, fathers, and a happy death.  As Catholics pray and reflect on the life of St. Joseph throughout the coming year, they also have opportunities to gain a plenary indulgence, or remission of all temporal punishment due to sin. An indulgence can be applied to oneself or to a soul in Purgatory.  An indulgence requires a specific act, defined by the Church, as well as sacramental confession, Eucharistic Communion, prayer for the pope's intentions, and full detachment from sin.  Special indulgences during the Year of St. Joseph can be received through more than a dozen different prayers and actions, including praying for the unemployed, entrusting one's daily work to St. Joseph, performing a corporal or spiritual work of mercy, or meditating for at least 30 minutes on the Lord's Prayer.                -From vaticannews.va

---

Official Prayer of the Year of Saint Joseph by Pope Leo XIII (1889)
(Pope Francis asks that this prayer be added to the end of the Rosary during this Holy Year).  To you, O blessed Joseph, do we come in our tribulation, and having implored the help of your most holy Spouse, we confidently invoke your patronage also. Through that charity which bound you to the Immaculate Virgin Mother of God and through the paternal love with which you embraced the Child Jesus, we humbly beg you graciously to regard the inheritance which Jesus Christ has purchased by his Blood, and with your power and strength to aid us in our necessities.
O most watchful guardian of the Holy Family defend the chosen children of Jesus Christ, O most loving father, ward off from us every contagion of error and corrupting influence; O our most mighty protector, be kind to us and from heaven assist us in our struggle with the power of darkness. As once you rescued the Child Jesus from deadly peril, so now protect God's Holy Church from the snares of the enemy and from all adversity; shield, too, each one of us by your constant protection, so that, supported by your example and your aid, we may be able to live piously, to die in holiness, and to obtain eternal happiness in heaven. Amen.                   -USCCB