St. Paul's Parish
Religious Education Program

(904) 249-2660
St. Paul's Religious Education welcomes all children to our program.

It's never too late to begin learning about your faith.
"Education in the faith by the parents should begin in the child's earliest years…Family catechesis 
precedes, accompanies, and enriches other forms of instruction in the faith."  (CCC #2226)
Faith Formation is offered for students in Kindergarten through High School.  Classes meet on Wednesdays.
4:30 – 5:45 (K-5)  and  6:30 – 7:45 (K-12).
---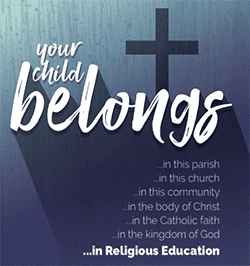 Registration for the 2019-20 Religious Education Year currently being accepted.  Classes began September 11.
St. Paul's Religious Education offers classes for students in grades K-8 who are not currently attending a Catholic school.
Registration information is also available on the St. Paul's Church Website.  Contact the Religious Education Office for additional information.  249-2660
---
Mimi Coleman,
Director of Religious Education & Youth Ministry
 (904)249-2660