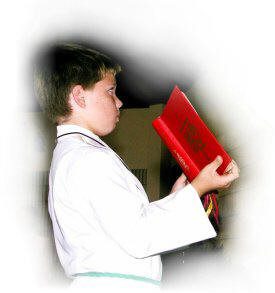 St. Paul's Altar Server Ministry
 This liturgical ministry is for students entering 5th grade and older.
Altar Serving provides students an opportunity to participate in the Mass in a very intimate way (by assisting the Priest).  This special children's ministry is both an honor and a privilege.  As such, students are expected to do all they can to bring a sense of dignity and respect to the ministry.
Training for new servers typically occurs during the summer months.   A full week is set aside to teach our new servers how to carry out their duties with reverence, dignity and respect.
Students are then required to serve at least 2 weekday Masses before being scheduled for Sunday Masses.
Instruction is provided to students seeking to participate in Sunday Masses at both St. Paul's and St. Peter's and also during the St. Paul's School Masses.
 Requirements for Servers:
Families must be registered and active members of St. Paul's Parish.
Students must be enrolled in a Catholic School or ACTIVELY participating in St. Paul's Parish Religious Education program.
Students are expected to have prior knowledge of the order of the Mass and the responses to the prayers.
Altar Servers are asked to serve at least ONE Sunday Mass per month.
 For additional information on how your child can join the Altar Server Ministry,
Contact Carol Burns, (904)249-2660, or cburns@stpaulsjaxbeach.org