ADULT FAITH FORMATION AND OPPORTUNITIES FOR SPIRITUAL GROWTH 
Please call MJ Antone at 222-0608 or email

mjstpaulre@gmail.com

with questions or more information.
All classes are held in the Family Life Center. 
All are welcome to attend and learn more about God, the Catholic Church and our Faith.
---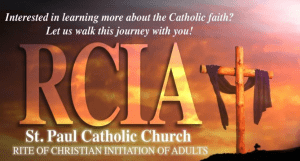 ARE YOU SOMEONE OR DO YOU KNOW SOMEONE WHO…
Has expressed an interest in becoming Catholic, but was baptized in another faith?
Has never been baptized in any faith?
Has a child over the age of seven who has not been baptized?
Was baptized Catholic, but has not celebrated the Sacraments of Eucharist and Confirmation?
 RCIA, The Rite of Christian Initiation for Adults (and Adapted for Children), offers the opportunity to come together as a faith community to learn more about the Catholic faith.  Sessions focus on the teachings and traditions of the Church and prepare individuals to celebrate the Sacraments of Baptism, Confirmation, and Eucharist.  You are invited to begin or continue your faith journey with us at St. Paul's by participating in the RCIA process with your questions, your insights, and your faith story.  Meetings are held every Wednesday evening from 6:30-8:00 in the Family Life Center.  (Children meet in the school).  We will begin on September 14th, but prior registration is needed.  For more information or to schedule a meeting in order to register, please contact MJ Antone at 222-0608 or by email at mjstpaulre@gmail.com.  To register children, please call 249-2660.
---
BISHOP ROBERT BARRON'S THE EUCHARIST




Sacred Meal, Sacrifice, Real Presence
More than half of current Catholics do not know the Church's teaching on the "real presence of Christ" in the Eucharist.  While it is an ineffable mystery, Vatican II called the Eucharist the "source and summit of the Christian life.
Christ is alive and fully present in the Eucharist.  Join us as we delve into the mystery of Christ's presence in your life, and the centrality of the Eucharist as an important part of that presence.  Deacon Chip and Tina Magner will be using Bishop Barron's DVD-based 6-week program to present this spiritual study to give you a deeper understanding of the precious gift of Christ's body, blood, soul and divinity that you can receive at each and every Mass.
On September 20th, from 6:30 to 8:00 PM in the main room of the Family Life Center, our parish will begin The Eucharist program.  There is no cost, but it is recommended that you purchase a study guide at https://bookstore.wordonfire.org/collections/eucharist/products/eucharist-study-guide-1.  To find out more information, please contact Deacon Chip at lrmagner@gmail.com or 205-799-2172, or MJ Antone at mjstpaulre@gmail.com or 904-222-0608.
---

Make authentic connections with other women | Refuel and refresh | Learn more about God
Walking with Purpose is a program that meets women right where they are and transforms their hearts. We are thrilled to offer two Bible studies this season. Trust us. This may be your best YES ever.
                 Opening Your Heart, our foundational study, is perfect for women new to WWP (with or without Bible study experience). It is a great starting point! We invite you to be amazed at how Scripture applies to your everyday life.
       Beholding His Glory reminds us how all Scripture points us to our Redeemer, Jesus Christ. We'll learn to recognize and appreciate God's plan for our own lives, His awe-inspiring majesty, and His desire for personal intimacy with each one of us. This will be followed by Beholding Your King.
We meet in the Family Life Center on Monday evenings at 6:30 pm, beginning September 26, and Wednesday mornings at 8:30 am, beginning September 28.
To register scan this code ,

     click this link  https://forms.gle/QNSpoD6ZokSnMini6 or contact Nancy McDonald at jaxnancy@icloud.com for more information.  We can't wait to welcome you to the Walking with Purpose community!