ADULT FAITH FORMATION AND OPPORTUNITIES FOR SPIRITUAL GROWTH IN 2020
Please call MJ Antone at 222-0608 or email

mjstpaulre@gmail.com

with questions or more information.
All classes are held in the Family Life Center. 
All are welcome to attend and learn more about God, the Catholic Church and our Faith.
---
 
THE RITE OF CHRISTIAN INITIATION FOR ADULTS AND CHILDREN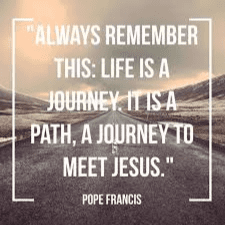 The Rite of Christian Initiation for Adults is a process of study, exploration, faith-sharing, and faith formation for seekers and inquirers. Seekers and inquirers are non-baptized adults who desire to be fully initiated into the Roman Catholic Church, and/or baptized adult Christians in another denomination who desire full communion in the Roman Catholic Church. During this conversion process, participants are introduced to the Gospel, the liturgy, the teachings, and the life of Jesus and the Catholic Church. The RCIA process follows the ancient practice of the Church and was restored by the Second Vatican Council as the normal way adults prepare for baptism. RCIA is also adapted for children over the age of seven who have not been baptized, who were baptized in another faith, or who have not yet received their first eucharist.
          RCIA IS A JOURNEY OF FAITH
Since Jesus invited His first followers to "Come, follow me," the image of a journey has been used to describe Christian discipleship.  For each of us, faith is a journey marked with moments of conversion along the way.  We move from unbelief to initial faith, from sin to repentance, from painful isolation to the joyful experience of a caring community – from fear to love.
          Faith, conversion, repentance, celebration, and community are the five basic elements present in the RCIA.  The process continues over weeks and months in a setting where the journey of faith and moments of conversion can be celebrated within St. Paul's Church community. The purpose is literally "the making of Christians," for as Tertullian wrote in the 4th century, "Christians are made, not born."

          WHY ARE WE TELLING YOU THIS?
You may have a friend or family member who is searching for something more, who needs peace, hope, or the feeling of God's love.  An acquaintance or co-worker may have asked you questions about the Catholic Church.  Someone may have indicated to you that they are searching for a sense of community, or a desire to hear more of the Good News of Jesus – the Gospel.  It is you—our parishioners—who know people who might be interested in deepening their journey with the Lord.
          As I interview seekers and inquirers, I find they want to become part of the Catholic Church at St. Paul's because they have visited our church and the congregation makes them feel welcome. That is exactly what drew me here on my journey of faith twenty years ago and what continues today – even in the gym with face coverings and beach chairs!
          Typically, St. Paul's has one of the largest RCIA groups in the diocese as our parish tries to live the Gospel message of discipleship.  We hope to continue that tradition but need your help to get the word out to pilgrims who may wish to take this journey.  The first step begins with you as you invite your friends, family members, co-workers, or others to explore what it means to be Catholic.  Please have them call me – MJ Antone at 904-222-0608 or email me at mjstpaulre@gmail.com.  May the Lord be with us on our way as we seek to share our Catholic faith and life with others.                        Peace, MJ Antone, RCIA Coordinator