ADULT FAITH FORMATION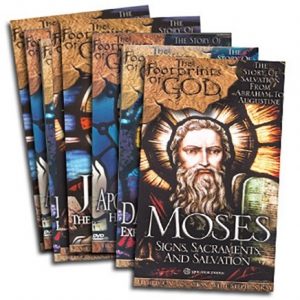 Call MJ Antone at 222-0608 or email mjstpaulre@gmail.com for information.
 THE FOOTPRINTS OF GOD – Tuesday Evenings and Friday Mornings
Unlike any video or film series ever made, the Footprints of God explores more than 2,000 years of Jewish and Christian history to explain Christian teaching. There has never been a production like it, and the entire series has the imprimatur of the Catholic Church.  The energized, high-impact style of Steve Ray combines the best elements of a travel documentary, biography, Bible study, apologetics course, and church history review. Back by popular demand, this 8 week series will be offered on Tuesday evenings at 6:30 in the Main Room of the Family Life Center and on Friday mornings at 10:30 in Room 107 of the FLC.  Join us for fellowship and fun.  The schedule is as follows:
May 11th & 15th – Jesus: The Word Became Flesh
May 18th & 22nd – Peter: The Keeper of the Keys
May 25th & 29th – Paul: Contending for the Faith
June 1st & 5th – The Apostolic Fathers: Handing on the Faith
---
 WEDNESDAY MORNING BOOK CLUB RESUMES MAY 16TH AT 10:00 IN ROOM 102 OF THE FAMILY LIFE CENTER WITH THE NEWEST BOOK FROM THE LIGHT SERIES BY LOCAL AUTHOR JACQULINE BROWN 
     Books have already been ordered.  We will review the first two books and the short story before beginning the newest novel.  The author will join us in June when we finish all the books.  Looking forward to seeing everyone back for more action-packed, thought-provoking suspense and intrigue.