Furthers pro-life causes through education, prayer and legislation's.  Please contact Kaylee and Matt Kuhlman at 270-313-7925 or

kuhlman2018@gmail.com

with any questions.

                              UPCOMING EVENTS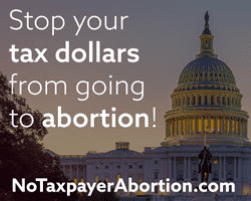 May 8th – Help prepare prayer cards for Catholics in assisted living facilities within our parish community. 
Contact Kaylee at kuhlman2018@gmail.com if interested in any events.
The Hyde Amendment, contained in the federal government's annual appropriations legislation, prohibits federal funding of domestic abortions, except in cases of rape, incest or to save the life of the mother. It is a bipartisan provision that has been part of federal appropriations for 45 years (since 1976). In addition to being widely supported by Americans, it saves lives and respects the consciences of Americans. However, it is now under grave threat. Stop your tax dollars from going to abortion. Visit NoTaxpayerAbortion.com to sign the petition to Congress.