960 Girvin Rd.
Jacksonville, FL 32225
904-619-2860
Mass Times
Saturday,  5:30 PM
Sunday,     9:30 AM
Adoration

Monday,  10:00 – 11:00 AM
Thursday,  1:00 – 2:00 PM
Upcoming Events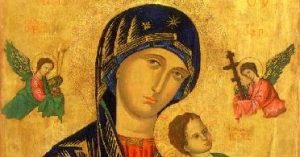 Holy Hour of Prayer
With the Intercession of 
Our Lady of Perpetual Help
3rd Thursday of every month 7:00 PM
A holy hour of prayer complete with Adoration and Benediction, asking for the intercession of Our Lady of Perpetual Help.
These evenings of prayer will be followed by a reception.  Everyone is invited to attend and not only share in prayer but to enjoy the specialties prepared by members of the community. Make sure to come hungry.  We promise a Feast for both your spirit and body.
The upcoming dates scheduled for these Holy Hours are:
July 20, 2017
August 18, 2017
September 21, 2017