960 Girvin Rd.
Jacksonville, FL 32225
904-619-2860
Mass Times
Saturday, 5:30 PM and Sunday, 9:30 AM
Sacrament of Reconciliation
On the first Saturday of each month, you have the opportunity to receive the sacrament of reconciliation.  A priest will be available in the office to hear confessions from 4:45 PM to 5:15 PM. Please take advantage of this opportunity to draw nearer to our Savior.
Adoration

Monday,  10:00 – 11:00 AM
Thursday,  1:00 – 2:00 PM 
Upcoming Events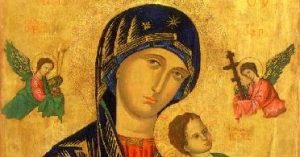 Holy Hour of Prayer
With the Intercession of 
Our Lady of Perpetual Help
3rd Thursday of every month 7:00 PM
A holy hour of prayer complete with Adoration and Benediction, asking for the intercession of Our Lady of Perpetual Help.
These evenings of prayer will be followed by a reception.  Everyone is invited to attend and not only share in prayer but to enjoy the specialties prepared by members of the community. Make sure to come hungry.  We promise a Feast for both your spirit and body.
The upcoming dates scheduled for these Holy Hours are:
November 16, 2017
December 21, 2017
 _________________________________________________________________________________________

Mary,  A Biblical Walk with
The Blessed Mother
Starting Monday, October 30th,  you are invited to participate in Mary: A Biblical Walk with the Blessed Mother. This program will place you in the midst of the powerful drama of her earthly life, taking you through her joys and her sorrows. You will learn how she works in our lives today, drawing us ever closer to her Divine Son.  If you choose to purchase the book, the cost is $25.00.
Free Blood Pressure Checks
The second weekend of each month, nurses are available following Mass to take your blood pressure.  Please stop by the kitchen the weekend of November 11 – 12 to check your numbers.
November 2017 Mission Calendar
Sun

Mon

Tue

Wed

Thu

Fri

Sat

01

02

03

04

All Saint's Mass

7:00 PM

Adoration of the

Blessed Sacrament

1:00 – 2:00 PM

Reconciliation

4:45 – 5:15 PM

Mass

5:30 PM

05

06

07

08

09

10

11

Mass

9:30 AM

Adoration

10 – 11 AM

Mary in the Bible class 6:30 PM

Mission Closed

Choir practice for Adult and Contemporary groups

Adoration

1-2 PM

Mission Closed

Mass

5:30

12

13

14

15

16

17

18

Mass

9:30

Adoration

10 – 11 AM

Mary in the Bible class 6:30 PM

Mission Closed

Choir Practice

Contemporary Group only

Adoration

1-2 PM

M.O.P.H.

7:00 PM

Mass

5:30 PM

Chaldean Mass

7:00 PM

19

20

21

22

23

24

25

Mass

9:30

Adoration

10 – 11 AM

Mary in the Bible class 6:30 PM

Mission Closed

No rehearsal

Thanksgiving Day

Mission closed

No adoration

Mission Closed

Thanksgiving

Day Holiday

Practice C. Grp. 4:30

Mass

5:30

26

27

28

29

30

Practice A. Choir 8:30 AM

Mass

9:30

Adoration

10 – 11 AM

Mary in the Bible class 6:30 PM

Mission Closed

Choir practice

Contemporary Group only

Adoration

1-2 PM

New Eucharistic Minister Training

6:30 PM