Adult faith formation and opportunities for spiritual growth
NEW LENTEN STUDY – CATHOLICISM: THE PIVOTAL PLAYERS
BEGINS Monday, February 19th at 9:30 Am and 6:30 PM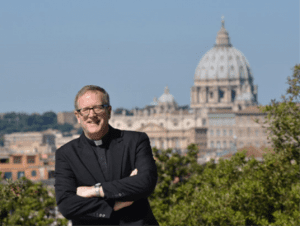 Bishop Robert Barron is on a new journey to unlock the truth behind the Catholic Church's most influential people. This six-part film series features saints, artists, mystics, and scholars who not only shaped the life of the Church, but changed the course of civilization. Join us on the following Mondays:
            Week 1 – February 19th – St. Francis of Assisi
            Week 2 – February 26th – St. Thomas Aquinas
            Week 3 – March 5th – St. Catherine of Siena
            Week 4 – March 12th – Bl. John Henry Newman
            Week 5 – March 19th – G.K. Chesterton
            Week 6 – March 26th – Michelangelo
Come to one or to all.  The morning group will meet in Room 107 of the Family Life Center, and the evening group will meet in the Main Room of the Family Life Center.  No prior registration is required.  All are invited to come and enjoy learning more about our amazing faith. For questions, call MJ at 222-0608 or email mjstpaulre@gmail.com.