St. Paul's Parish
Religious Education Program
St. Paul's Religious Education welcomes all children to our program.
It's never too late to begin learning about your faith.
"Education in the faith by the parents should begin in the child's earliest years…Family catechesis precedes, accompanies, and enriches other forms of instruction in the faith."  (CCC #2226)
Faith Formation is offered for students in Kindergarten through High School. Classes meet on Wednesdays,
           4:30 – 5:45 (K-5)  and  6:30 – 7:45 (K-12).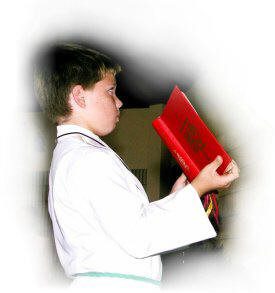 New Altar Server Training
Sign up now for summer classes.
 Space is limited in each session.
  Session 1:  June 5-9;  8:00 AM – 11:30 AM
 Session 2:  July 31 – August 4; 8:00 AM – 11:30AM 
This ministry is for students entering 5th grade and older.  Students are expected to have prior knowledge of the order of the Mass and the responses to the prayers.
                                                            Students must be able to attend all 5 days. Space is limited in each session.
Call ahead to reserve your spot.  For more information contact: Mimi Coleman 249-2660.
 Download our registration form
Mimi Coleman,
Director of Religious Education & Youth Ministry
(904)249-2660