Last Friday, Auld and White Contractors made it possible for the students and staff of St. Paul's School to visit the new church and sign their names on the concrete block walls under the places where the Stations of the Cross will be inserted.  Even though their names will be covered with sheet rock and sound-proofing material, they will always know under which station they signed their name.  Even the rain couldn't dampen the excitement of the students when they entered the vastness of the new church.  The construction workers made it really interesting by parking all their machinery inside the building so the future builders and engineers could see it up close.  They were obviously thinking about their future both in church and their choice of careers.
---
HAVE YOU BEEN WATCHING THE ROOF TRUSSES GO UP ON THE NEW CHURCH?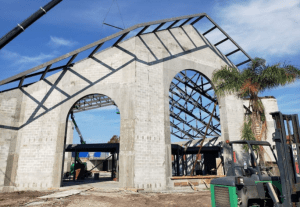 THE WALLS GO UP ON OUR NEW CHURCH – A SIGN OF HOPE!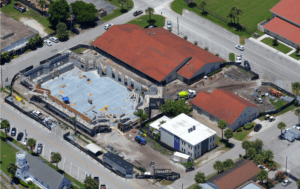 FREQUENTLY ASKED QUESTIONS – AND ANSWERS:
 How big is the new church in comparison to the old church?
The new church will seat twice as many people as the old church for a total of about 1,340 folks.
When will the new church be finished?
Our hope is to be in the new church by this time next year, but we are leaving it in God's hands.
Will there be a bell tower, a choir loft, and restrooms?
Thankfully, all those features have been included in the design of the new church.
Are we tearing down the existing Family Life Center?
Absolutely not!  The plan has always been to tie the new church to the Family Life Center which will continue to house our Early Learning Center, meeting rooms, a kitchen and the Office of Parish Ministries and Adult Faith Formation.  A new feature in the FLC will be a greatly expanded religious article store. 
What is going on with the stained-glass windows? Why are the openings for the windows so large?
The windows will be expertly removed from the old church in late September or early October and taken to Lynchburg, Virginia, for repair and cleaning.  The openings in the new church are for the actual windows as well as the architectural detail around them. 
What will the old church look like with no stained-glass windows?
There is currently impact resistant glass in front of the stained-glass which will remain.
What about Mary and the Stations of the Cross?
They will also be transported to Virginia for repairs, cleaning, and refurbishing. 
---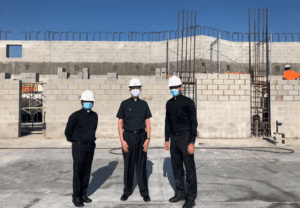 Fathers Valan, Houle and Joseph stand where the altar will be in the new church.
The south wall is being prepared for stained glass windows.