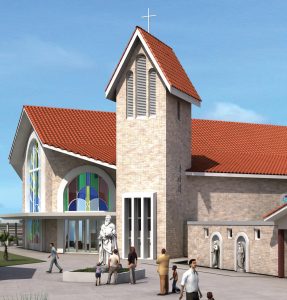 In early October Fr. Houle officially kicked off our parish campaign at Masses by explaining the plans to address many parish needs along with a virtual fly-through of the proposed new church and Eucharistic Adoration Chapel. There was also a message of support from Fr. Kelly, our Honorary Campaign Chair. With a campaign goal of $8 million, Fr. Houle shared some great news that as of early October, 74 families and individuals have made initial pledges that total over $2.5 million! We are on our way!
To read the text of Fr. Houle's Campaign Kick-Off Message, CLICK HERE
To read the text of Fr. Kelly's Campaign Kick-Off Message, CLICK HERE
To view the message from Bishop Felipe Estevez , SEE BELOW
To view the Virtual Fly-Through of the proposed church and Eucharistic Adoration Chapel, SEE BELOW
Note: Details are yet to be worked out and decided upon. This video only gives an idea of placement and anticipated overall look for the proposed project.
Volunteers Needed to Work on the Campaign
Many volunteers are needed to work on our campaign. Time commitment is generally a few hours per week over a three month period. When you are asked to help as a volunteer, please say yes! You can also contact the parish campaign office at (904) 249-2600.
Some Questions and Answers about our campaign
Q:  How much am I expected to give?
All parishioners are being asked to consider a specific gift amount. However, you alone can determine the amount of your gift.  Please remember, we need the participation of all parishioners and if your gift is one of sacrifice, it is truly a generous gift regardless of its size.
Q:  Why am I asked to consider a specific amount?
Parishioners need to know what levels of support are necessary to meet and exceed our campaign financial need. A gift amount is suggested for each household to prayerfully consider. No judgment is made on the level of gift you or others make. The true test of your gift is whether it is planned, proportionate and sacrificial.
Q:  What if I choose not to give the amount requested?
Matters of giving are questions of priorities. Your family is unique unto itself; however, you are asked to prayerfully consider a specific gift. Whatever your response, it should be one of choice and sacrifice.